Ageless Living
In this edition we talk what Longevity means to us, neuroplasticty, and the lasting life of plastics.
As I was getting closer to turning 40 I realized I wanted the second part of my life to be about doing something meaningful and with purpose. One night in Dubai about 3 years ago I was in the car talking about the future with my distributor and one of the best business men I know, Mazen Khanafer, the owner of Shift a top distributor of all things Apple in the MEA region, and I realized making cases was not going to be it for me. I was the CEO of Case Scenario, a company I had co-founded and branded as the first fashion consumer tech accessories in Europe. At that point we had achieved distribution in all major markets, were doing millions in sales, and had entered Apple as a third party vendor. We had collaborated with some of the coolest fashion brands and stores like colette in Paris, Selfridges in London, and Lane Crawford in Hong Kong, and had master licenses for Pantone and Keith Haring. We were the first ones to make the ubiquitous marble effect case!! But what I had seen in my multiple factory visits in China was starting to weight heavy on me. A great album of memories remains is our instagram that stoped on July of 2017, but unfortunately those plastic cases and cables live on landfills across the world longer than all of us…from 450 to 5000 years.
For those who have been with MYKIGAI from the start they know we started with a bit of a different premise, but my goal has been - since the first day I volunteered my dog Mobile on our first visit to a retirement home - to be one of the agents of change in redesigning the aging experience.
I have gone in a bit of a roundabout way - it's been by all means a learning curve - making the first cardinal mistake of calling my audience "the third age" when the majority are 50, and are barely on the second act, never mind third! Most importantly a lot of the new "ageless explorers" don't identify with the notion that they are aging, or lonely, or over the hill, because they are not. But so many products are still being launched calling 50 year olds "seniors". One word: UNREAL. I am lucky that I have an eye for talent and one of my favorite millennials and team members Taylor, refocused my efforts in doing what what I do best - curating trends, forging collaborations and picking the best of everything of our chosen focus - in this case - longevity.
Our platform is technology enabled but I am not going to throw the words innovation by AI and machine learning - thought it will play a hand eventually - because software does not know what getting older means - it only gets newer and fresher with updates. Unlike humans, who until Aubrey De Grey and the SENS research foundation figure out how we can live to 150, we are all just following a chronological path of aging. It will take the human know-how at the start to make that experience something to be enjoyed. A club we want to belong to. As I was reminded this week in our guided meditation with Spiritlicious, "neuroplasticty" is the ability we all have to change our brain's pathways, and we need to use this to renew our thinking of how we see ourselves as we get older.
I like what my friend Linsay Yang - who I hope to have as guest very soon - posted in her recent Vogue Hong Kong article, like her I am pro-aging but seeking longevity. When we say Concierge for Longevity, we mean curating, engaging and saving you time and effort on finding the best possible concepts to make your second, third, and beyond acts full of purpose and with increased healthspan. Because in the end it is not about how long we live, but how long we live healthy.
We are reformatting content and features and you can already see some changes on our platform, and there are more to come. We hope for some of you this is a journey you want to share with us!
Laura from MYKIGAI
P.S.- Remember today we have our Ageless Living + Wellness trend presentation at 6pm. Read more about Linda Kafka read below and see you online!
---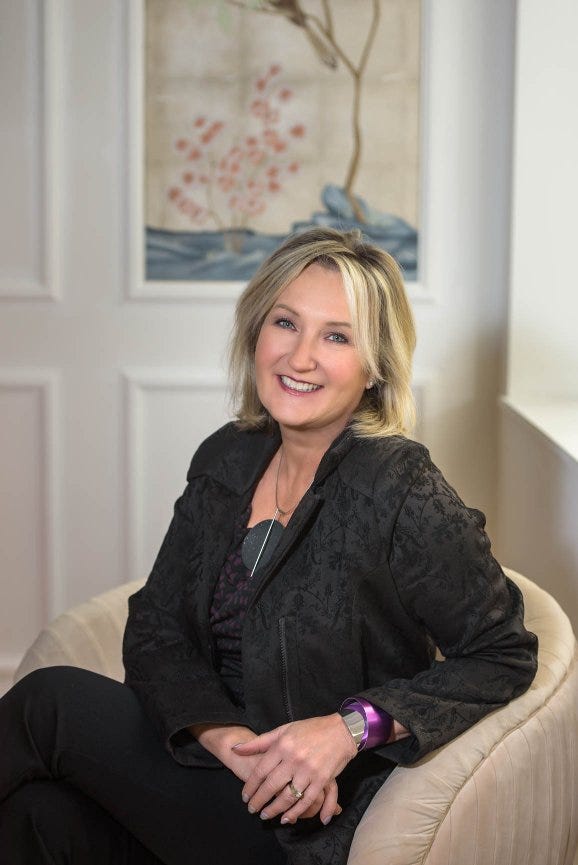 Linda Kafka is presenting 10 Design Trends in Wellness+ Ageless Living for her MYKIGAI webinar on Thursday, September 17th, at 6pm.
DESIGN FOR ALL
The conversation around inclusion has swept through public discourse and found open minds in the arts—books, theatre, film, TV and fashion worlds. But one frontier remains behind the times, and it is very close to home. In fact, says Linda Kafka, it is our very homes that are not part of this push to accommodation.
​Kafka is an advocate of ageless living, and a movement called Living in Place. This, she says, is not about your grandmother and grab bars for her bathtub. It is instead a holistic approach, "To support everyone, regardless of age, ability or size." Why, Kafka asks, "can residential environemnts adapt to us as our needs change over an entire lifespan?"
​Her career and experiences led her to the conclusion that solutions lay in addressing design before housing is built. Kafka began her career in the interior design industry at the International Centre in 2009, where manufacturers furniture showrooms once lived in a mainstream design centre for designers and consumers.It was there that she had an epiphany for what the future—and our aging population—would eventually need. To wit: thoughtful design solutions to make new builds and renovations last a lifetime. Kafka heard from consumers who wanted to plan ahead, but the challenge, as she knew too well, was that designers, renovators and contractors were not inclined, or trained, to solve inclusivity issues elegantly. "Why," asks Kafka, "does the building industry continue to concentrate on aesthetics over function?" Answering this question became her mission in life, a way to use all the skills and insights she had acquired in her career to tackle one of society's larger, but unheralded, issues.
​Kafka will do a trend presentation with MYKIGAI on September 17th at 6pm. There she will explore the concepts of Ageless Living and some practical considerations we should all be thinking about. The round table precedes the trade event Kafka is running called LivABLE Environment Conference. That virtual event, scheduled for October 28 to 30, will feature 30 different thought leaders in the field. "It is focused on the residential sector," she says, "supporting living in place, accessibility and wellness by encouraging developers, architects, designers, builders and renovators to be innovative and think creatively about solutions that meet the needs of all building users."
​There is big money in this untapped field, and a chance to helping people with smart design before they need help. The Canadian Home Builders Association says that home modifications are worth $77 billion dollars a year in Canada. Meanwhile, new builds is an industry worth $275 billion dollars.
​The pandemic has taught us, says Kafka, that we are going to need to explore multigenerational home sharing to accommodate boomerang kids, share the costs of caring for younger and older family members. "I love advocating for this," she says. "It is really important that we start paying attention to the built environment. One out of 5 Canadians face challenges dealing with the basics of daily living. This is not about senior citizens: this is about everybody, across every demographic."

This presentation is in collaboration with YouAreUNLTDa purpose driven brand, disrupting and redefining what it means to get older. Anne Marie Wright, Partner and Co-founder, will be moderating this event.
#Design
#Wellness
#Inclusivity

---
Interviews by Leanne Delap who has been both the Fashion Editor and Fashion Reporter for the Globe and Mail and was the editor-in-chief of FASHION Magazine.